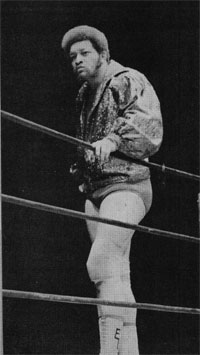 He first played on professional football teams -- the San Diego Chargers, the Houston Oilers, and the Kansas City Chiefs -- and then found fame and fortune in professional wrestling, a sport that landed him in the World Wrestling Federation Hall of Fame.

He is Ernie "Big Cat" Ladd. And on Saturday night, he died of cancer at the age of 68.

Ladd's battle with cancer began in 2004. It started in his colon and later spread to his stomach and bones.

"The doctor told me I had three-to-six months to live," Ladd said in 2005. "I told him Dr. Jesus has the verdict on me."

It seems the great doctor gave Ladd, the 15th player taken in the 1961 AFL draft, more than a few months -- proof that numbers are not everything in the game of cancer.

Ladd, almost 6-foot-10 and more than 300 pounds, started making appearances at wrestling events during his football career. He was first a special events referee and then became a wrestler. It was both a knee injury and the lure of the lucrative wrestling industry that ended Ladd's football career.

"In what other sport can you pick up a $14 pair of boots, $0.59 socks -- spend maybe a total of $50 -- and convert it into $100,000 a year, if you are sharp and train?" Ladd once said. "My intention was to go back to football, but pro wrestling was so good to me."
Reeser Bowden interviews Ernie Ladd Re: Andre The Giant
From '78 in Tri-State Wrestling
(which covered the area that Mid-South would eventually take over).
Ladd calls Andre a dummy eleventy times. Classic stuff.
Wrestling career
Ladd started wrestling in 1961. As a publicity stunt, some wrestlers in the San Diego area challenged Ladd to a private wrestling workout. Before long, Ladd was a part-time competitor in Los Angeles, during football's off-season. Ladd became a huge draw in short order. Ladd became one of wrestling's most hated heels during the 1970s, as well as one of the first Black wrestlers to portray a heel character. In addition to riling crowds with his arrogant and colorful demeanor during interviews, all without being portrayed with any stereotyping, Ladd also gained infamy through use of his controversial taped thumb, which Ladd claimed was from an old football injury. Often, when Ladd appeared to be in serious trouble during a match, he'd walk out of the arena and accept a countout loss. This practice has since become known as "pulling an Ernie Ladd" in some circles.
In 1968, Ladd debuted in the World Wide Wrestling Federation (WWWF), where he became a mainstay until 1980. Ladd was managed by The Grand Wizard of Wrestling for much of the 1970s, and provided WWWF Champions Bruno Sammartino, Pedro Morales and Bob Backlund some of the toughest challenges of their respective title reigns. Known for his immense size and power, it was a natural for Ladd to engage in feuds with other giants. His feud with André the Giant (who Ladd referred to as "Andre the Dummy" during interviews) was one of the most talked-about of the decade. In the mid-1970s, Ladd's wrestling nickname was "The King", and he would wear an ornate crown to emphasize it.
After leaving the WWF, Ladd ventured to the Mid-South territory promoted by Bill Watts. While in the Mid-South area, Ladd feuded with Paul Orndorff, Ray Candy, Junkyard Dog and served as a manager to Afa & Sika, the Wild Samoans. Ladd also had a decent run as part of a tag team with "Bad" Leroy Brown in the early 1980s.
Ladd retired from wrestling in 1986. He was inducted into the WWE Hall of Fame in 1995 and inducted the Junkyard Dog into the WWE Hall of Fame in 2004. Ladd died on March 10, 2007, having battled cancer since 2004
From Wikipedia, the free encyclopedia
Tribute to Wrestlers that have died
A tribute to the legends that are no longer with us.

wrestlers include
British Bulldog Davey Boy Smith, Andre the Giant,
Junk Yard Dog, Rick Rude, Pitbull#2,
Giant Baba, Yokozuna, Chris Candido, Malice,
Crash Holly, Bad News Brown, Bam Bam Bigelow,
Curt Hennig, Texas Tornado Kerry Von Eric,
Mike Awesome, Public Enemy,
Ernie Ladd, Hawk, Big John Studd, Eddie Guerrero,
Gorilla Monsoon, Brian Pillman, Big Bossman, Earthquake, Owen Hart
From tombstone318 Thanks for the cool Clip, Buddy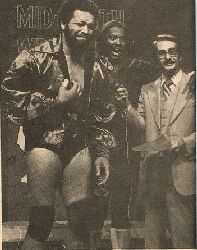 For Ernie Ladd's Interview 05-04-01
CLICK HERE
Read about The Cat in Bush's corner
CLICK HERE
Read Ernie Ladd Bio: By Steve Slagle
CLICK HERE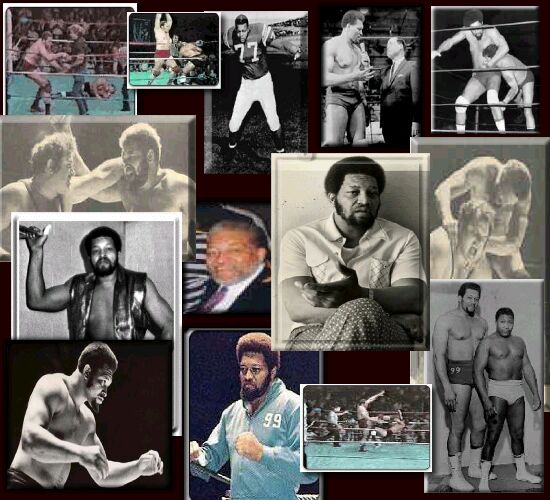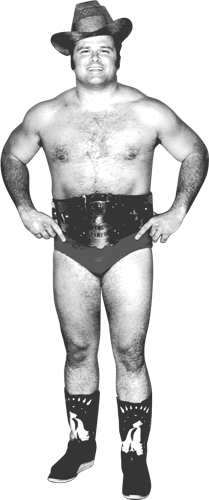 My devotional is about Ernie Ladd -- my wonderful and dear friend, who has just 'gone to Heaven' to be with the Lord -- after fighting colon cancer for several years. (The funeral Saturday, March 17th, 2007)

Ernie is such evidence in my life of God working in and around me -- even when I was in complete rebellion to Him......

Ernie and I first met on the football field.....in the second year of the AFL when The Houston Oilers played the San Diego Chargers.......

Then, later in pro-wrestling........in the years of tremendous racial unrest in the US and even in our capitol, Washington DC.........

We did not become 'true friends' until the 80's......and God definitely brought us together......and used us.......in some things without our realizing it.....but later, we both realized and better appreciated God's using us in His will......

Here are some comments in an article that ran in Monroe, Louisiana:

T

his is a story from The (Monroe) News-Star in 2005.

A living legend returns home

By Nick Deriso (I've just included some portions of the article)

He still blocks out the sun.

Yes, Ernie

Ladd

, the former Grambling great, is every bit of 6-9 - unbowed by age, a damaging career in football and wrestling, even colon cancer.

He smiles wide and then folds himself into my Beetle, and without complaint.

"I find Volkswagens," says the always-literate

Ladd

, "to be surprisingly spacious."

Still, German engineering, it's safe to say, couldn't have accounted for passengers like the Big Cat - who one former competitor once said was so enormous that "it was dark. I couldn't see the linebackers. I couldn't see the goalposts."

I can't see the side mirror.

Crossed over a 52-inch chest are 20-inch biceps, with similarly proportioned calves leading to size 18D shoes.

Ladd

's knees, crisscrossed by surgery scars, push high against the dashboard, like a parenthesis around his face.

Yet, he couldn't be more animated, as the mileposts shotgun by.

"I'm committed to Grambling, to the new president,"

Ladd

says. "And not just in words, but also in deed. When it comes to supporting this school, I will attack it like a hungry wolf."

We're on the way to the town where he played college ball for Eddie Robinson. And

Ladd

is on a roll, riffing like a jazz musician in spurts then floods of enthusiasm and intellect.

He had been, really, from the start: "You're not asleep, are you?"

Ladd

bellowed, cold-calling my cell phone at 10:30 a.m. last Monday, while I sat waiting for the first group to make the turn at Doug Pederson's Celebrity Gold Tournament in nearby Choudrant.

I laughed, not the first time that day.


"Ernie

Ladd

," he exclaimed, "is on his way!"

When he gets out, the passenger seat is so far back that my 3-year-old would have had to cross his legs in the back.

Large and in charge

That sturdy frame propelled Ernie "Big Cat"

Ladd

into the old American Football League and later to wrestling. More importantly, and this is how

Ladd

got that timeless nickname, he was just lickety-split quick.

"The first year he was here, he taught me a lesson," Robinson once said. "He told me how good he was. Sure, I'd say. Then he hurt somebody. I'd feel sorry for the people he was tackling."

Legacy to match stature

Ron Mix, a Pro Football Hall of Famer as an offensive lineman with San Diego Chargers and then the Oakland Raiders, also had a memorable quip about

Ladd

: "He wasn't a fat big, he was just big big."

Still is. A scary truth writ large this week was that

Ladd

is more massive, even, than any member of the current line at Grambling.

Ladd

actually got bigger, at least in pop culture, when he left football.

But first came a stellar career with San Diego, after being selected 15th in the AFL draft.

Ladd

would appear in three of the league's championship games, winning the 1963 title.

Ladd

remembers those Chargers teams for their football prowess, but also for their groundbreaking sensibility.

"We were like a family," he says. "We were one of the first integrated teams, with black players and white players as roommates."

Elected to four straight AFL All-Star Games from 1962-1965, he later played with the Kansas City Chiefs and Houston Oilers. While with the Chiefs, he reunited with Junious "Buck" Buchanan, another legendary fellow Gramblinite.

An amazing quickness to match that big-bigness earned him the nickname "The Cat" - then, more appropriately, "The Big Cat." That would perhaps serve him even better in pro wrestling.

Surgery again sidelined

Ladd

during the 1969 season, even as the Chiefs ultimately defeated the Minnesota Vikings in the Super Bowl.

By then

Ladd

had already plotted his next move: He'd begun wrestling as a sideline during his rookie season, and found the payday and fame so alluring that he was ready to give up pro football.

Ladd

's storylines resonated during wrestling's earliest flowering as a national attraction, not to mention signature moves that included the "guillotine drop" and a boot to the face.

Rivalries with Andre the Giant and Dusty Rhodes helped shape wrestling's 1970s persona.

Today, he's the only person in both the American Football League and World Wrestling Federation halls of fame.

Ladd

is also a 1994 inductee into the Louisiana Sports Hall of Fame, and joined the San Diego Hall of Champions last year.

Ladd

's intention concerning the disease - about being listed, quite literally, at one point as day-to-day - is to stare it down.


Ladd

has steadfastly insisted that his religion spurred an undiagnosed recovery.

That spot was found more than a year ago on his colon. Further tests showed the cancer had spread through his stomach and into his bones.

They called

Ladd

terminal, but he called their bluff.

"The doctor told me I had three-to-six months to live,"

Ladd

says. "I told him Dr. Jesus has the verdict on me."

This born-again Christian, a father of four and grandfather to another 13, then roars with laughter once more.

He also answers his phone, time and time again while I drive, by saying "Jesus Loves You." He means it.

"I'm here right now because of my faith," says

Ladd

, a pastor in his current hometown of Franklin. "The Lord comes first in my life. I trust God."

My friend and brother in the Lord, Ernie Ladd:

My dear friend, Jim Ross informed me of Ernie's passing...........and I say "passing" because Ernie Ladd, my brother in the Lord is right now in Heaven with His Savior, Jesus Christ..........and the Lord is saying, 'Welcome, My good and faithful servant, my brother, my co-heir to all the Father has prepared'............Ernie Ladd was the loving and willing bond-servant of Christ!

http://www.thenewsstar.com/apps/pbcs.dll/article?AID=/20070311/UPDATES02/70311008/1006/SPORTS

He is an awesome friend! God sent Him into my life.........and He impacted me so dramatically...........I love Him dearly.

He taught me so much about 'being black'..........as He explained, no white man can understand, because we cannot walk in a black man's shoes.............we shared so much together...........so much.........he blessed my life........he touched my heart!

He told me of growing up in the heart of 'racism'.....of his father in jail in Baton Rouge......of the rules in Louisiana and in Texas -- in certain communities of no blacks after a certain time of day........so many horrible racist things..........that this giant of a man had to deal with.........and I got to see him 'rise above them'...........I was there the day Lyndon Johnson signed the Civil Rights Act of 1964........and in the dressing room for wrestling matches in Baltimore, when my tag team partner made a complete ass of himself as he addressed Ernie racially......in anger.....in front of everyone...and Ernie did not 'knock him out' because he was a 'bigger man' inside too.......and knew it would only inflame things more....few there 'understood' this -- why Ernie was not retaliating there and then....that was a very tense time in America.........that same time in Washington DC where riots and burning were happening.........

The Lord reached out to both of us at about the same time-- about 1984.........Ernie was the headliner for my wrestling company, and also had become my 'booker'........he set up and arranged the matches.......a very trusted and valued position.........

The story Ernie told me: He had gone to get some additional knee surgery........and the night before, while eating dinner, a man came to his table and sat down.......Ernie thought maybe the man was 'gay'.........but the man said, "No".......the Lord has led me to come share Christ with you! He did, and Ernie accepted Christ as His personal Savior.........

Whether that was 'him returning to the Lord' or it being the actual first time he experienced the Lord.........I don't know........but I do know........Ernie's life changed...........and how he looked at life........and his family.......and I know Ros Ladd loves the Lord too..........so this was huge for her........

At the same time, the Lord confronted me -- as so many of you know-- calling me back to Himself.........and I have told that story.......and Ernie and I were exercised.......both of us wanting to share it with each other........and also apprehensive because of the business we were in..........but we did.......and we both rejoiced..........


I feel Ernie was so much the 'more faithful to the Lord' by his life.............I love him and his testimony for the Lord.......it encouraged me when I was struggling...........

Ros, his dear wife......was such a powerful influence in his life too.........what sweethearts! He always would make reference to her, and his love for her......and God's blessing on his life by his marriage to her...........

I remember, when Ali fought Leon Spinks for the title in the Superdome, Ernie and I (and Ros) attended..........and I was taking he and Ros to dinner.........and I had a rented car........a Lincoln.......and Ernie got in the back seat with Ros........and I said, "Big fella,"........."Why don't you sit up front here with me, there is so much more room in the front seat"...........and sitting back there with Ros, he said, "Ros, I told you when we met in college, that if you married me, one day I would have us a big, fat, white, honky chauffeur!" "Well, we have one now!"

That is the friendship we had! I could share with you so many Ernie Ladd stories...........he lives too in my heart!

I was just saying to him recently on the phone..........."Ernie, I am afraid the Lord will call you home before He does me.........and I'm concerned, because the way you eat, there may not be enough food left in Heaven for a banquet when I get there!"

I love Ernie Ladd.........and am so privileged, so blessed, so tremendously blessed to have that big giant of a man as my friend!

He was big enough I booked him in a 'single's match'............one-on-one against Andre the Giant in the Superdome......and we had never done that before.........

He was a 'star-maker' in the business........if he felt someone could 'become a star'.......he would sacrifice to make them one........

He had 'great integrity'........his word was his bond! He studied the business........one of the first I ever saw who did...........and he amazed me..........and taught me too......

We had 'great arguments'.......and could 'take them so far' because we were friends first........but too, he worked for me, so when we would 'get to the final solution' and decide our direction, he would say, "Case closed!" Meaning, we were in agreement, and he was going to expedite our decisions........

He took me back to Grambling, and told me of how tough it was there.........how Eddie Robinson drove them........and worked them so hard......of the primitive and harsh conditions....they did not have 'nice dormitories to live in either then' ...he introduced me to Eddie, and we did some fund-raising bouts there........Eddie Robinson's efforts were HUGE for 'breaking the barrier' for black athletes in football............I can still hear Ernie's stories about Tank Younger, and others......and their struggles.........sports were an important factor in race........because racial discrimination starts as 'fear' and 'what you do not know' about the race you hate...........so, to get to know black athletes was my first 'personal exposure to blacks' on a personal basis..........Bud Wilkinson had 'broken the color line' in 1956 by recruiting the first black to play at Oklahoma University.......Prentice Gautt.......and my friend Wallace Johnson.......to interact with them on a daily basis was the beginning of understanding them as a person..........Wallace and I are still close friends.......Prentice has passed on too.......but he was an awesome person..........


Ernie spoke of coming to Grambling to play basketball.........but Eddie saw him, and walked along side of him and said, "Big Red (his nickname), you look hungry........here are the keys to the kitchen .......if you get too hungry, fix yourself a sandwich......and Ernie filled out to 315 lbs..........and the rest is history.......

We were 'rookies the same year'.......me with Houston, and him with San Diego..........and played against each other twice......but I got fired from the Oilers and Ernie became a star for the Chargers..........we never 'met personally at that time'.........I later met him in California when he was wrestling and so was I........


Our friendship began years later..........


Heaven is rejoicing for Ernie Ladd coming home to Heaven's rest...............I know Ros and his family and friends are mourning.........as am I.........but also smiling and thanking God that He chose Ernie Ladd to become 'a child of God in Christ Jesus'.......I can still hear his voice when I would call him.......and he would answer, "Jesus loves you!"


Jesus loves Ernie Ladd and so do I..........


I'll see him when the Lord calls me home to Heaven too..........


Bill Watts

Copyright © 2007 Buddy Huggins Productions & Extreme Midsouth Wrestling All rights reserved.